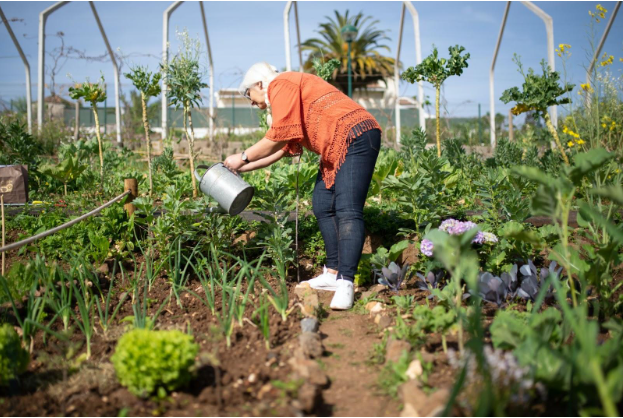 Landscaping is a beautiful way to refresh your home's appearance and it can greatly increase your property's value. But landscaping can be expensive. In fact, average landscaping costs are between 5 and 10 percent of the value of your home. This means that on a $500,000 home, you could expect to pay up to $50,000 for landscaping. 
Two main factors affect the cost of landscaping: materials and labour. Landscaping can involve a full plan that includes softscaping (soil and plants) and hardscaping (pavers, retaining walls and other built structures), and how much you spend will depend on your budget and the scale of the job.
Don't have much budget to spend? Looking for a quick landscaping fix for a backyard wedding or upcoming sale? Here are ten ways to landscape a garden cheaply but effectively.
10 ways to landscape a garden cheaply but effectively
Disguise tired paving
Rather than pay for a new patio to be installed, disguise tired paving with an outdoor rug. Colourful, warm and comfy underfoot, outdoor rugs are one of the easiest and most affordable ways to transform your outdoor seating area on a budget. Look for high-quality materials built to withstand the elements and choose from large-scale tropical motifs to monochrome geometrics.
Tidy up existing shrubs
Bring fresh form and structure to your garden by reshaping and taking control of existing unruly shrubs. A set of loppers or a hedge trimmer won't break the bank and it will do wonders for the overall look of your outdoor space. Prune your shrubs just after flowering or fruiting and this will allow maximum time for your plants to produce the next season's flower buds.
Reshape your flower beds
Altering the shape and size of your flower beds can completely transform your garden. Straight edges can offer a formal feel, whereas sweeping curves and irregular, drifting shapes can soften the look of your garden. Give flower beds a minimum depth of 1 metre, which allows space for several different plant heights. This produces a richer and fuller look and gives your planting interest.
Create zones
Like any open plan interior, your home's exterior works better when it's divided into zones. This is true of even the smallest of yards.
Gardens are multifunctional, versatile spaces and garden zoning enables you to turn a one dimensional space into a series of beautiful outdoor rooms. Use a trellis to screen, build a raised terrace, create shelter with a pergola, and break up large expanses with rockeries.
Sow a lush lawn
Rolling new turf may be a quick and easy way to create a beautiful and lush lawn, but a cheaper way to create this is by learning how to sow a new lawn with grass seed. Spring is the ideal time to start a new lawn from seed and it's also more rewarding as you watch it take shape. Be sure to prep your soil well and choose a seed that will support how you, kids and pets use your garden.
Upgrade your garden edging
Edging garden beds is a step that many gardeners skip but without it, gardens can look unfinished and bare. Many types of edging are no-dig and easy to install and with so many edging material types to choose from, you can find a material to accentuate the theme of your yard. For example, reclaimed bricks can give a vintage charm, while corrugated metal sheets embrace the raw industrial look.
Build your own pergola
With some basic DIY skills you can safely construct a character-filled pergola to create shade or shelter over a pathway, accessorise for a party, cover a hot tub or provide a frame for planting. Attach a pergola to an existing wall and you can extend your living space without a full extension.
Paint your boundaries
Paint is a great way to liven up a lacklustre garden wall or fence and the huge spectrum of exterior paint colours means you can really make a statement. The bolder the better when it comes to outdoor paint!
As well as painting your boundaries, consider where else paint can be used. A statement wall can finish off an alfresco dining area and colourful pots and containers can bring life into your garden's accessories.
Salvage hardware
Garage sales, Gumtree, junkyards and Facebook Marketplace are great sources for salvaging second-hand furniture items, pots and materials that can be used for projects within your garden. You'll feel good about your salvaged wares too because not only are you saving money while creating a beautiful garden, you're saving the environment with less ending up in landfill.
Mulch
Mulch is a cheap and easy trick for instantly tidying up your garden. Mulch also keeps your plants happy by keeping moisture in, maintaining even soil temperature, and by stopping nutrients from washing away. There are many different types of mulch, both organic and inorganic. Choose from bark, straw, coir, gravel, pebbles…whatever compliments your garden's style.
Keeping it simple
While landscaping requires careful planning, big change doesn't always come from 'going big'. Sometimes, the most effective changes are the simple ones you make.
From buying or building low-cost seating to lighting up your garden with some string lights, there are many different ways to transform your landscaping on a budget. Once these small but impressionable changes have been made, you can start to move on to bigger projects. You may even decide that the simple touches are all you need to make the most of your outside space.